PARA
Abdominal Paracentesis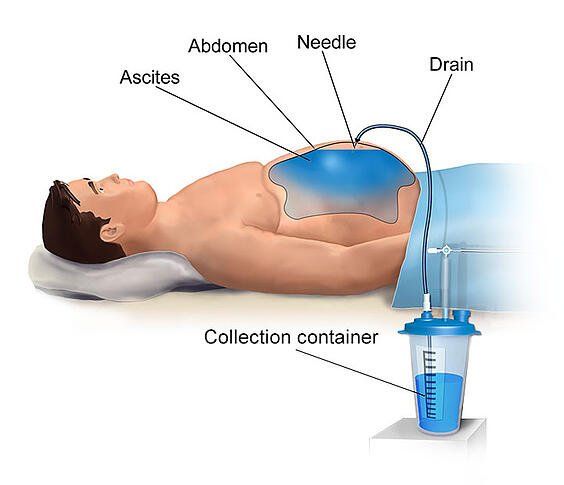 Introduction
Abdominal paracentesis is a safe and effective diagnostic and therapeutic procedure used in the evaluation of a variety of abdominal problems, including ascites, abdominal injury, acute abdomen, and peritonitis. Ascites may be recognized on physical examination as abdominal distention.
To assess the cause of ascites, fluid is sent to laboratory for analysis specially to assess infections or malignancy. Therapeutic paracentesis is employed to relieve respiratory difficulty due to increased intra-abdominal pressure caused by ascites in patients with cirrhosis.
Midline and lateral approaches can be used for paracentesis, with the left-lateral technique more commonly employed. The left-lateral approach avoids air-filled bowel that usually floats in the ascitic fluid. The patient is placed in the supine position and slightly rotated to the side of the procedure to further minimize the risk of perforation during paracentesis. Because the cecum is relatively fixed on the right side, the left-lateral approach is most used.
Large amount of fluid can be removed safely, though most ascitic fluid reaccumulates rapidly. Patient requiring repeated paracentesis are at risk of protein loss, therefore protein infusion is recommended at the time of paracentesis to avoid complications. Cancer patients with malignant effusions may also need repetitive therapeutic paracentesis. Intravenous fluid and vascular volume support may be required in these patients if larger volumes are removed.
Ascites may be caused by:
Cancer
An infection
Inflammation (swelling)
An abdominal injury
Cirrhosis of the liver (scarring of the liver)
Before Your Procedure
Before your procedure, you may have tests, including an ultrasound to find the fluid in your abdomen, blood tests, and any other tests necessary to plan your care.
Your doctor or nurse will talk with you about what you're able to eat before your procedure.
Ask about your medications
You may need to stop taking some of your medications before your procedure. Talk with your doctor about which medications are safe for you to stop taking. We have included some common examples below. Tell your doctor or nurse what medications you're taking, including prescription medications, patches, creams, herbal supplements, and over-the-counter medications.
Anticoagulants (blood thinners)
If you take a blood thinner, which is a medication that affects the way your blood clots, ask the doctor performing your procedure what to do. Some over the counter medications, such as aspirin, can also thin your blood, so it's important to tell your doctor every medication you take. Whether they recommend you stop taking the medication depends on the reason you're taking it. Do not stop taking your blood thinner medication without talking with your doctor that prescribes it.
During Your Procedure
What to expect
Once you arrive at the hospital or at liver institute, doctors, nurses, and other staff members will ask you to state and spell your name and date of birth many times. This is for your safety. People with the same or similar names may be having procedures on the same day.
After you change into a hospital gown, you will be brought into the procedure room and helped onto a procedure table. Your nurse may place an intravenous (IV, in your vein) catheter into a vein in your arm or hand, unless you already have a central venous catheter (CVC). You will get fluids through your IV or CVC. You will be attached to equipment that will monitor your vital signs, such as your blood pressure, temperature, and pulse.
A member of your healthcare team will help position you onto your back and using ultrasonography machine, a site with large pocket will be selected and marked on the skin with a marker.
Your abdomen will be cleaned. You will be injected with a local anesthetic (medication to make you numb) in the area where your doctor will be working.
Once the area is numb, your doctor will put a needle in your abdomen. Then they will put a catheter into your abdomen at the puncture site (the area where the needle was inserted). The catheter is connected to a bottle by a small tube. The fluid from your abdomen will be drained through the catheter and into the bottle. Don't move while the catheter is in place.
Once enough fluid has been drained, the catheter will be removed, and a small bandage will be placed over the punctured site.
How long your paracentesis will take depends on how much fluid is drained.
The drained fluid will be sent to a lab so that your doctor can find the cause of the build-up.
After Your Procedure
In the hospital or Liver Institute
When your procedure is over, you will rest for a short time. Then, when you're ready, your nurse will help you get up slowly. Tell your doctor or nurse if you feel dizzy or lightheaded.
You may have some pain or discomfort. Talk to your doctor or nurse about pain medications you can take, such as Tylenol® and Advil®.
It's normal for a small amount of fluid to leak from the puncture site after your procedure. Your doctor or nurse will give you bandages to protect your clothing in case this happens. If fluid is still leaking from the puncture site 24 hours (1 day) after your procedure, call your doctor or nurse.
At home
Keep your bandage on for 24 hours after your procedure.
You can shower 24 hours after your procedure. Take off your bandage and wash the puncture site with soap and water. You may want to place a clean bandage over the area if fluid is still leaking from the site.
You can go back to your normal activities after your procedure unless your nurse or doctor gives you other instructions.
When to Call Your Healthcare Provider
Call your healthcare provider if you have any of the following issues:
Redness at the puncture site
Increased pain in your abdomen
A fever of 100.4°F (38.0°C) or higher
Shaking or chills
Trouble breathing
An increased amount of fluid leaking from your puncture site
Complications
Abdominal radiographs should be obtained before paracentesis, because air may be introduced during the procedure and may interfere with interpretation.
Perforation of bladder and stomach (emptied prior to the procedure to decrease the risk)
Bowel perforation
Laceration of a major blood vessel
Loss of catheter or guide wire in the peritoneal cavity
Abdominal wall hematomas
Pneumoperitoneum
Bleeding
Perforation of the pregnant uterus
Infection
Persistent leak from the puncture site
Post paracentesis hypotension
Dilutional hyponatremia
Hepatorenal syndrome
Contact us
If you want to cancel or reschedule your appointment, please call the Liver Institute as soon as possible
La Paracentesis Abdominal
Introducción
La paracentesis abdominal es un procedimiento diagnóstico y terapéutico seguro y eficaz utilizado en la evaluación de una variedad de problemas abdominales, incluyendo ascitis, lesión abdominal, abdomen agudo, y peritonitis. La ascitis se puede reconocer en la examinación física como distensión abdominal.
Para evaluar la causa de la ascitis, el líquido se envía al laboratorio para su análisis, especialmente para evaluar las infecciones o la malignidad. La paracentesis terapéutica se emplea para relevar la dificultad respiratoria debido a la presión intrabdominal creciente causada por ascitis en pacientes con cirrosis.
Los acercamientos del midline y del lateral se pueden utilizar para la paracentesis, con la técnica izquierdo-lateral empleada más mente. El acercamiento izquierdo-lateral evita el intestino lleno de aire que flota generalmente en el líquido ascítico. Colocan al paciente en la posición supina y rota levemente al lado del procedimiento para reducir al mínimo aún más el riesgo de perforación durante paracentesis. Debido a que el ciego es relativamente fijo en el lado derecho, el enfoque lateral izquierdo es el más utilizado.
Gran cantidad de líquido se puede eliminar con seguridad, aunque la mayoría del líquido ascítico vuelve acumbir rápidamente. Los pacientes que requieren paracentesis repetida están en riesgo de pérdida de proteínas, por lo tanto, se recomienda la infusión de proteínas en el momento de la paracentesis para evitar complicaciones. Los enfermos de cáncer con efusiones malas pueden también necesitar paracentesis terapéutica repetidor. El líquido intravenoso y la ayuda vascular del volumen se pueden requerir en estos pacientes si se quitan volúmenes más grandes.
La ascitis puede ser causada por:
Cáncer

Una infección

Inflamación (hinchazón)
Una lesión abdominal

Cirrosis del hígado (cicatrización del hígado)
Antes de su procedimiento
Antes del procedimiento, es posible que te hagas pruebas, incluyendo una ecografía para encontrar el líquido en el abdomen, análisis de sangre y cualquier otra prueba necesaria para planificar tu atención.
El médico o el personal de enfermería hablarán contigo sobre lo que puedes comer antes del procedimiento.
Pregunte acerca de sus medicamentos
Es posible que deba dejar de tomar algunos de sus medicamentos antes del procedimiento. Hable con su médico sobre qué medicamentos son seguros para que deje de tomar. Hemos incluido algunos ejemplos comunes a continuación. Informe al médico o al personal de enfermería qué medicamentos está tomando, incluidos los medicamentos recetados, los parches, las cremas, los suplementos herbales y los medicamentos de venta libre.
Anticoagulantes (anticoagulantes)
Si toma un anticoagulante, que es un medicamento que afecta la forma en que se coagula la sangre, pregúntele al médico que realiza su procedimiento qué hacer. Algunos medicamentos de venta libre, como la aspirina, también pueden adelgazar la sangre, por lo que es importante que informe a su médico cada medicamento que tome. Si te recomiendan dejar de tomar el medicamento depende de la razón por la que lo estés tomando. No deje de tomar su medicamento anticoagulante sin hablar con su médico que se lo recete.
Durante su procedimiento
Qué esperar
Una vez que llegue al hospital, los médicos, enfermeras y otros miembros del personal le pedirán que indique y deletree su nombre y fecha de nacimiento muchas veces. Esto es por su seguridad. Las personas con los mismos nombres o nombres similares pueden estar teniendo procedimientos en el mismo día.
Después de cambiarse a una bata de hospital, lo llevarán a la sala de procedimientos y lo ayudarán a subir a una mesa de procedimientos. El personal de enfermería puede colocar un catéter intravenoso (IV, en la vena) en una vena del brazo o la mano, a menos que usted ya tenga un catéter venoso central (CVC). Usted recibirá líquidos a través de la vía intravenosa o CVC. Se le conectará a un equipo que controlará sus signos vitales, como la presión arterial, la temperatura y el pulso.
Un miembro de su equipo de atención médica lo ayudará a posicionarse sobre su espalda y usando una máquina de ecografía, se seleccionará un sitio con bolsillo grande y se marcará en la piel con un marcador.
Se limpiará el abdomen. Se le inyectará un anestésico local (medicamento para entumecerlo) en el área donde trabajará su médico.
Una vez que el área está entumecida, el médico colocará una aguja en el abdomen. Luego colocarán un catéter en el abdomen en el sitio de la punción (el área donde se insertó la aguja). El catéter está conectado a una botella por un tubo pequeño. El líquido del abdomen se drenará a través del catéter y en el frasco. No se mueva mientras el catéter esté en su lugar.
Una vez que se haya drenado suficiente líquido, se retirará el catéter y se colocará un pequeño vendaje sobre el sitio perforado.
El tiempo que tomará su paracentesis depende de la cantidad de líquido que se drena.
El líquido drenado se enviará a un laboratorio para que su médico pueda encontrar la causa de la acumulación.
Después de su procedimiento
En el hospital
Cuando termine su procedimiento, descansará por un corto tiempo. Luego, cuando estés listo, tu enfermera te ayudará a levantarte lentamente. Informe a su médico o enfermera si se siente mareado o aturdido.
Usted puede tener algo de dolor o incomodidad. Hable con su médico o enfermera acerca de los medicamentos para el dolor que puede tomar, como Tylenol® y Advil®.

Es normal que una pequeña cantidad de líquido se escape del sitio de punción después del procedimiento. Su médico o enfermera le dará vendas para proteger su ropa en caso de que esto suceda. Si el líquido todavía se está escapando del sitio de la punción 24 horas (1 día) después del procedimiento, llame a su médico o enfermera.
En casa
Mantenga el vendaje encendido durante 24 horas después del procedimiento.

Usted puede ducharse 24 horas después de su procedimiento. Lávese el vendaje y lave el sitio de punción con agua y jabón. Es posible que desee colocar un vendaje limpio sobre el área si el líquido todavía se está escapando del sitio.

Usted puede volver a sus actividades normales después del procedimiento a menos que su enfermera o médico le dé otras instrucciones.
Cuando llamar a su proveedor de atención médica
Consulte con el médico si tiene alguno de los siguientes problemas:
Enrojecimiento en el sitio de la punción

Aumento del dolor en el abdomen

Fiebre de 100.4°F (38.0°C) o más

Temblores o escalofríos

Dificultad para respirar
Una mayor cantidad de líquido que se escapa del sitio de la punción
Complicaciones
Las radiografías abdominales se deben obtener antes de paracentesis porque el aire se puede introducir durante el procedimiento y puede interferir con la interpretación.

Perforación de la vejiga y el estómago (vaciado antes del procedimiento para disminuir el riesgo)
Perforación intestinal

Laceración de un vaso sanguíneo importante

Pérdida del catéter o del alambre guía en la cavidad peritoneal

Hematomas de la pared abdominal

Neumoperitoneo
Hemorragia

Perforación del útero preñado

Infección

Fuga persistente del sitio de la punción

Hipotensión post paracentesis
Hiponatremia dilucional

Síndrome hepatorrenal
Contáctenos
Si desea cancelar o reprogramar su cita, por favor llame al Instituto del Hígado tan pronto como sea posible.