Liver Transplantation
Working Together Making a Difference
Liver transplantation (LT) has revolutionized the care of patients with end-stage liver disease. The first successful human liver transplant was performed in 1967 by Thomas Starzl at the University of Colorado, after that he moved to University of Pittsburgh which became a Mecca of liver disease care. Since then, advances in surgical technique, immunosuppression, and patient selection have made the procedure a standard life-saving treatment for patients with decompensated acute and chronic liver diseases.
Liver Institute PLLC does not provide liver transplantation services. However, it works side by side with liver transplantation centers to coordinate the care locally. We refer our patients to Mayo Clinic in Scottsdale, AZ (deceased donor) or University of Southern California (USC) in Los Angeles or University of Pittsburgh (live donor). All three centers we work with, are world renowned and have immense expertise to manage highly complex patients needing bloodless transplantation, multi-organ transplantation (where a person needs transplantation of several organs at the same time) or patients with other complexities.
Early identification of patients needing liver transplantation
For patients with end-stage liver disease, the stakes are high, and their healthcare providers' familiarity with the appropriate pretransplant evaluation and management is of utmost importance. Appropriate evaluation of a patient for liver transplantation begins with early recognition of a need for the transplantation and a timely referral to a transplant center.
At Liver Institute, we play a key role in identifying appropriate candidates, who may benefit from transplantation compared to those who may need transplantation but may not qualify to be suitable candidate otherwise because of several factors. This approach helps us to consider and provide alternative care to such patients. Certainly, it also prevents unnecessary anxiety, traveling, testing and cost. Three factors are important in defining potential candidacy; need, urgency, and contraindications. In some instances, a patient may need nutrition support, a psycho-social support system, or documented sobriety set in place to define as an appropriate candidate for liver transplantation. We provide and/or organize such services locally to accomplish these goals.
Transplantation evaluation
Once a patient has been identified as a potential candidate, we refer patients to our affiliated transplant centers as above. Transplant centers, after receiving the referral, obtain prior authorization for transplantation evaluation, and transplantation surgery. Upon approval by insurance, patients are scheduled for formal evaluation. Obtaining prior authorization may take up to 6 weeks.
Most transplant centers have a multidisciplinary approach that includes a detailed history and examination by a transplant hepatologist and transplant surgeon, and assessments by a mental health provider, a social worker, a transplant coordinator, a financial counselor, and other specialists such as pharmacists and nutritionists. Many centers offer patients and their support members counseling, educational sessions, and the opportunity to meet with prior organ transplant recipients to enhance their knowledge and reduce stress related to the process. A large evaluation process, including laboratory, imaging, cardiovascular, and pulmonary tests, is performed to confirm the cause and severity of liver disease, estimate renal function, determine the blood group, evaluate the patient's exposure and immunity to prior infections, screen the patient for and assess the degree of co-morbid medical conditions, and assess the technical feasibility of transplant surgery. Additionally, patients undergo specific screening for concurrent medical conditions that may warrant appeal for exceptional priority for LT, such as hepatocellular carcinoma (HCC) and hepatopulmonary syndrome.
Patients who are considered for living donor liver transplantation, we perform most of the tests locally to make the process convenient for the patients and family.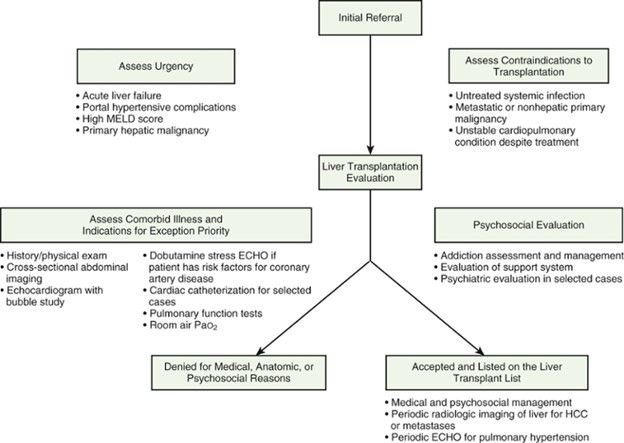 Pre-transplantation care
Once the patient has been selected as a candidate and registered on the waiting list, ongoing and well-coordinated monitoring and management is critical. The importance of an excellent primary care provider (hepatologist, Liver Institute provider) cannot be overstated. Timely and clear communication among the transplant center, the primary care provider, and the patient and the patient's home support team improves delivery of the often-complicated care plans.
Patients with end-stage liver disease (chronic liver failure) require complex medical care (as above) and are at high risk of the development of complications. Such patients often require close adjustment of medications to prevent life-threatening complications, nutrition support, and may need recurrent hospitalization with acute deterioration called acute-on-chronic liver failure.
Acute-on-chronic liver failure is an increasingly recognized clinical scenario wherein a relatively well compensated individual experiences a new and rapid decompensation. It is defined by acute development of ascites, encephalopathy, gastrointestinal hemorrhage, and/or bacterial infection in the setting of one or more organ/system failures. 29 Acute-on-chronic liver failure is graded by type (i.e., liver, kidney, cerebral, coagulation, circulatory, and respiratory) and number of organ failures, and is positively correlated with mortality. When acute-on-chronic liver failure is assessed at 3 days to 7 days after presentation, the acute-on-chronic liver failure score may be useful for determining the urgency of LT.
Regular updating of laboratory MELD test results is required by the United Network for Organ Sharing to evaluate the progression of liver disease and update the patient's priority status on the waiting list.
Post-transplantation care
It usually takes 2-3 weeks to recover from surgery, following that it requires weekly monitoring for next 4-8 weeks. Transplantation team continues to adjust your transplantation medications to prevent rejection episodes.
Our role at this stage is optional, patient may continue to follow with transplant center team or may choose to follow with us at Liver Institute. Sometimes, care is provided jointly between transplantation center team and liver institute team.