Alcohol Rehabilitation
Psycho-social support and alcohol and substance abuse rehabilitation
Psycho-social support and alcohol and substance abuse rehabilitation
Significant psychiatric comorbidities or social difficulties, including transportation, support, and financial limitations, can impair a patient's ability to adopt a healthy lifestyle, form a productive relationship with the medical team, and adhere to complex medication regimens.
Cirrhotic patients have poor health-related quality of life. Depression and isolation can impair medical adherence. Significant psychiatric disorders should be under the care of a mental health provider (psychologist and/or psychiatrist) and under excellent control to achieve targets before transplantation.
A history of treatment for psychologic diseases other than alcoholism is predictive of recidivism, clinic visit non-adherence, and smoking, underscoring the importance of recognizing and supporting psychiatric disorders.
Addiction is frequent in patients with end-stage liver disease, and recidivism is common in addiction. Liver transplantation is contraindicated in the setting of active alcohol or substance abuse yet may proceed once sincere recovery has been established, by means of documented sobriety, which entails counseling, psychologic disease identification and management, and random alcohol and drug testing.
Liver Institute has devised a formal program to initiate documented sobriety from the very beginning of evaluation and management of liver failure, to achieve the targets in timely manner to prepare for liver transplantation if needed.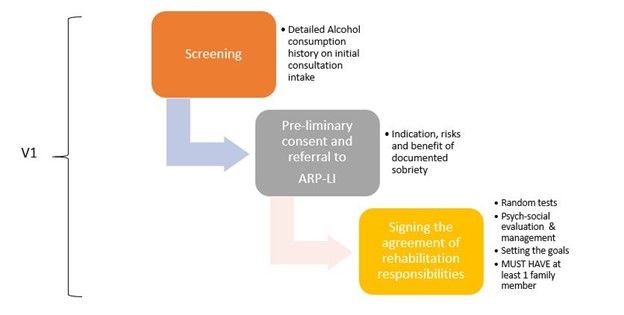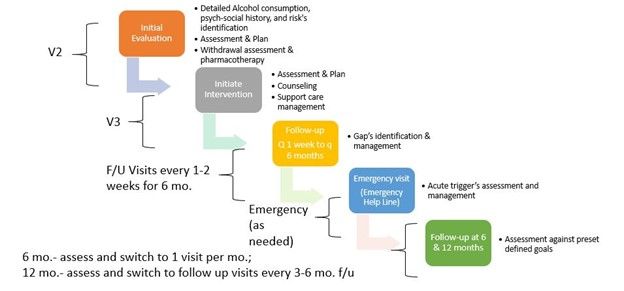 V2 is visit two
V3 is visit three